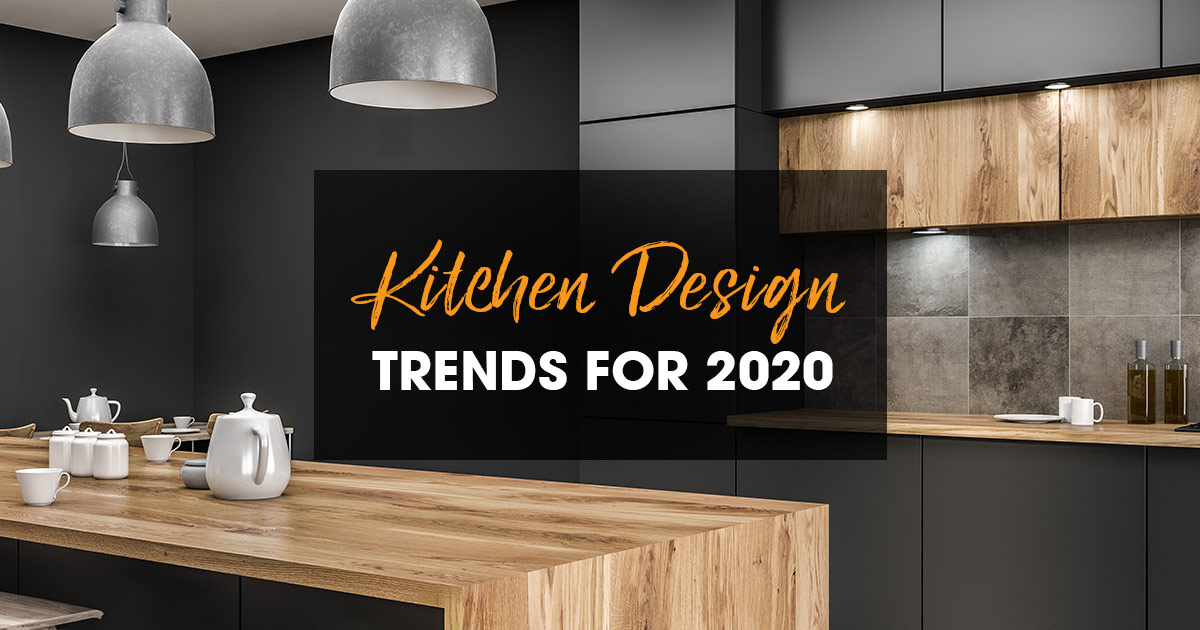 ---
Kitchen trends have evolved over the years, and each new year introduces beautiful designs and ideas that inspire us.
2020 is just around the corner, and with it comes a slew of 2020 kitchen trends to look out for. There are exciting new countertop, cabinet, faucet, and pantry trends (among others) that will help you transform any outdated kitchen into a contemporary space.
Here are the top 2020 kitchen design trends you'll be seeing a lot of in the coming year.
Natural Stone Countertops
---
People are moving more toward natural materials instead of choosing synthetic or manmade ones, so it's no surprise that natural stone countertops are making a comeback. Veined marble will be in high demand in 2020, adding a luxurious layer to any kitchen.
---
Dark colors such as black, charcoal and navy are no longer considered just accent colors. You'll find a lot of very dark and dramatic walls, cabinetry and work surfaces in 2020 kitchen trends. These elements create a very sleek and inviting environment, especially when paired with textured woods.
---
As a sharp contrast to the dark kitchen design trends, pops of bright color will also be favored in 2020. Colorful kitchen islands in particular can stand out in a white kitchen, adding visual interest to the space. Colors such as burnt orange, yellow and sharp blue work well to draw attention, but make sure your client is on board with adding a bold accent color to their kitchen.
---
Cabinet and drawer handles will be very discreet in 2020 – even non-existent! Handleless cabinetry gives a more streamlined and elegant look to the kitchen. It especially complements Scandinavian home design as it leans more toward minimalism and clean lines.
---
There will be a rise in walnut cabinetry in the coming year. Walnut is a rich, dark wood and it permeates luxury and warmth. It's a durable material that has long been ignored but is rising to stardom in 2020. Make sure the surrounding walls are a neutral color as walnut has an intense hue on its own.
Kitchen Larders
---
Kitchen larders – or cupboard pantries – will be a must-have in 2020 kitchen trends. Offering your clients a larder will give them enough space to store all their dry goods and other kitchen items. This frees up a lot of cabinet space and looks great with a pair of sleek doors.
Fluted Glass
---
Fluted glass might bring back childhood memories of our grandparents' home, but it's making its way back to contemporary kitchens. You can use fluted or smoked glass on cabinets or pantry/larder doors, somewhat concealing or distorting the contents of each while still achieving an open and airy look.
Hidden Range Hoods
---
Integrated range hoods are all the buzz in 2020. The industrial, exposed look will be taking a backseat in the new year. Range hoods can be covered with cabinets, custom boxes with various materials, or even covered by the same tiles used on the backsplash.
This eBook offers a detailed overview of how to start your own interior design business. It includes information about business registration, website design, digital portfolios, marketing, and more.
Download Now