---
Home designers and remodelers have to be familiar with all the popular interior design styles in order to accommodate the needs and wants of their clients. Most of the time, clients don't even know the specific design style they want.
That's where your knowledge and expertise on different interior design styles comes in. After speaking with your client and taking a look at inspirational images they've gathered, you should be able to identify their design style.
This guide on top 10 interior design styles will refresh your memory and help you easily identify the specific styles your clients are referring to.
10 Popular Interior Design Styles Explained
1. Modern
---
The modern style stems from the Modernism movement that came about in the 1920s. It should not be confused with the adjective "modern," which refers to current trends. It should also not be confused with contemporary style, which also refers to design trends of the current era. The modern design style is very specific and is said to be founded by the famous German-American architect Ludwig Mies van der Rohe.
Main materials: Wood, metal, glass, steel
Color palette: Monochromatic, neutral, earthy
Furniture style: Simple, exposed legs, raised off the floor, glossy cabinets
Distinguishing features: Clean lines, simple furnishings, lack of clutter & adornments, "form follows function"
---
Traditional style is inspired by older and more classical European design styles, but that doesn't necessarily mean it's outdated. It's a style that brings comfort, familiarity and predictability to a room, making a space feel warm and welcoming. There are no surprises in a traditionally designed home, and everything is clean, calm and calculated.
Main materials: Wood
Color palette: Neutral walls, warm, rich, dark, gold & silver furnishings/accessories
Furniture style: Elegant, regal, floral patterns, wooden (mahogany, maple, cherry), upholstered, heavy, claw-footed, velvet, silk
Distinguishing features: Symmetrical, columns, crown moulding, detailed woodwork
3. Contemporary
---
Contemporary style should not be confused with modern style. If your client wants a contemporary home, it means they're into current design trends. It is not a static trend but rather an evolving one that adapts to current times. Contemporary style is generally based on simplicity, sophistication and clean lines. It is not cluttered, and it's very sleek and fresh.
Main materials: Light woods, glass, stainless steel
Color palette: Brown, taupe, cream, white, black
Furniture style: Exposed legs, neutral tones, natural fibres, two-tone prints, no skirts or excess fabric
Distinguishing features: Open space, uncluttered, airy, strong emphasis on line and form
---
Industrial style is inspired by the industrial working world where machine, metal and brick were king. In this day and age, it celebrates a building's raw and exposed materials. But that doesn't mean it's only reserved for people who live in lofts – any space can be transformed into an industrial-style home with the right color palette, materials and furnishings.
Main materials: Weathered wood, metal, brick, concrete
Color palette: Neutral shades – brown, tan, black, cream, grey
Furniture style: Mix of wood and metal, vintage/antique look, weathered, functional
Distinguishing features: Open concept layout, high ceilings, exposed materials, uncluttered, functional, mix of old and new, negative space
---
The transitional style is a mix of traditional and contemporary. It offers the best of both worlds in that it is comforting and sleek at the same time. This style focuses on texture and material over color.
Main materials: Wood, glass, lacquer, steel, mirror
Color palette: Neutral – brown, taupe, tan, cream, grey
Furniture style: Curves combined with straight lines, lacquered finishes, modern fabrics, subtle prints & patterns
Distinguishing features: Lightly adorned, clean lines, inviting, focus wall, neutral colors
---
Rustic style is all about bringing natural and earthy elements into a home. Cottages and townhouses are often designed in this style, but it's becoming more and more popular among city dwellers. Rustic style incorporates accessories from the outdoors such as branches, logs, and reclaimed wood.
Main materials: Wood, stone, organic textures
Color palette: Brown, green, gold, grey, beige
Furniture style: Distressed/rough wood, leather, rough edges
Distinguishing features: Wooden beams, stone fireplace/accent wall, warm colors, natural materials, wooden counters and furniture, worn finishes
7. Bohemian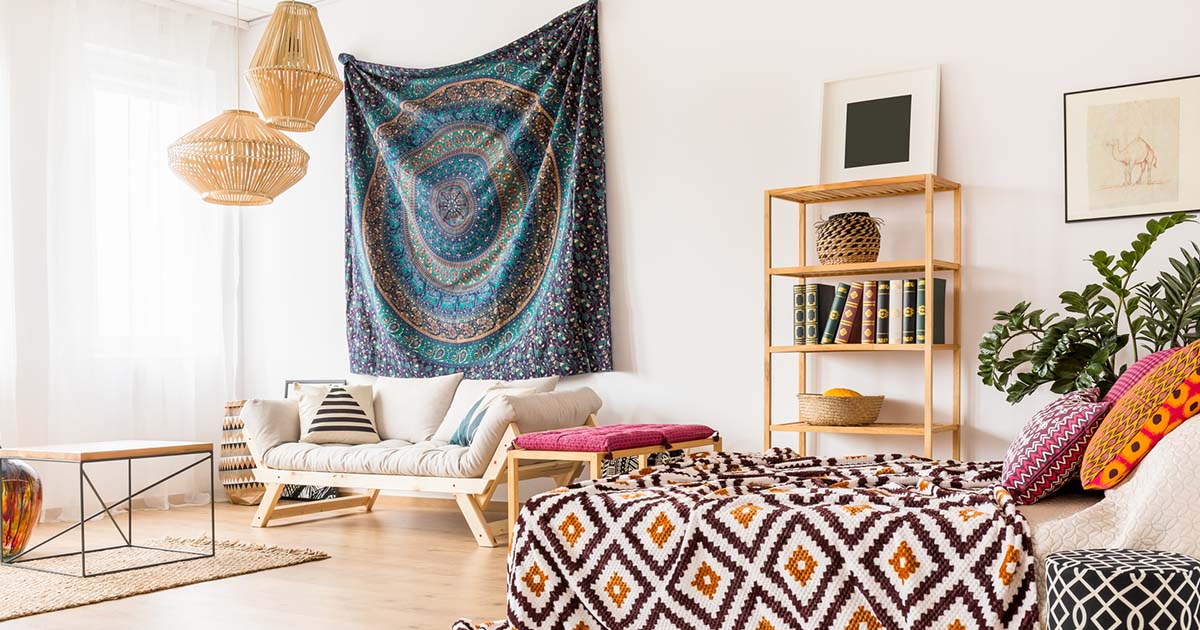 ---
The bohemian style suits anyone who has a carefree lifestyle and who loves bright colors, vintage furniture, and layers. This style is a clash of beauty, chaos, and culture. It allows the homeowner to express their individuality and is often adorned with accessories gathered from trips or flea markets. It is one of the interior design styles that embraces an ordered form of clutter.
Main materials: Wood, metal, dyed textiles,
Color palette: Brown, green, metallics, jewel tones, purple, orange, blue
Furniture style: Second-hand/vintage, plush, saturated colors, poufs, mismatched, comfortable
Distinguishing features: Colorful, layered, various textures and patterns, vintage items, tapestries, crowded
---
The minimalist design style stems from the theory that less is more. There is less furniture, less clutter, less accessories. Even the items used are minimal in that they're airy and have empty space around them. If your client is into the minimalist design style, you're going to have to work with open spaces, few furniture items, and a whole lot of white.
Main materials: Glass, wood, marble, concrete, metal
Color palette: Monochromatic, white, black, grey
Furniture style: Streamlined shapes, simple, functional, subdued colors
Distinguishing features: Clean lines, uncluttered, lack of ornamentation, calm, spacious, airy, lots of light
9. Hollywood Regency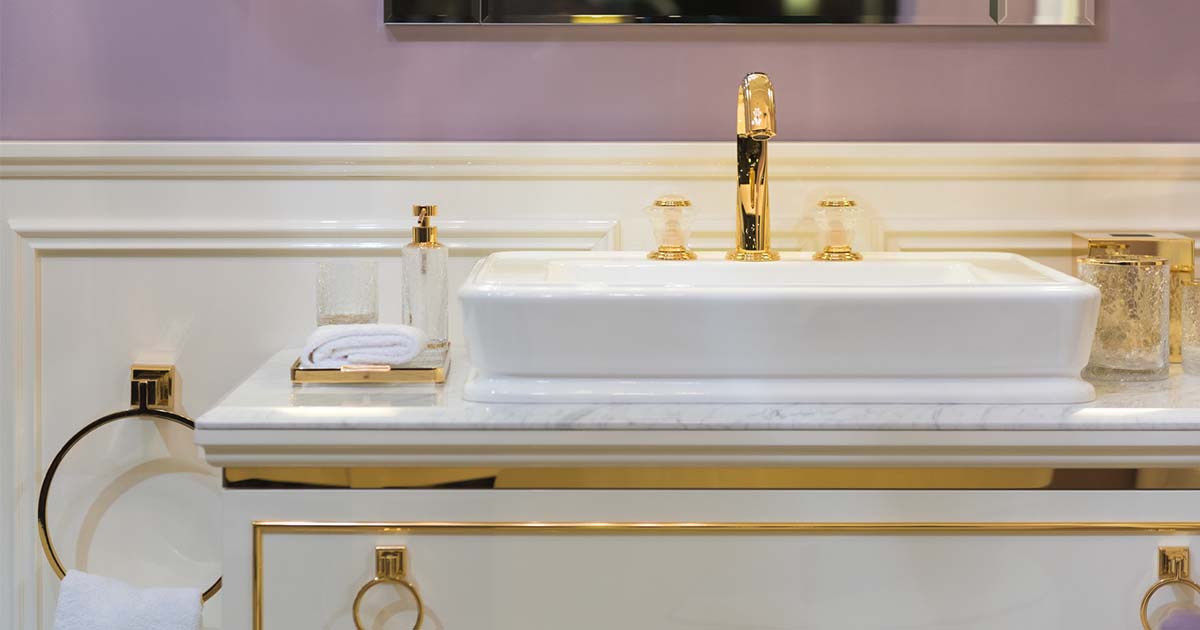 ---
This style dates back to the 1930s when Hollywood was in full swing. Hollywood regency style is suitable for clients who are into glam, opulence and who are not afraid to take risks. It's also for clients who love to entertain guests and who have an active social life. It is one of the interior design styles that opposes minimalism and embraces extravagance.
Main materials: Glass, mirror, metal, lacquer
Color palette: Bold – purple, red, turquoise, gold
Furniture style: Velvet, plush, Victorian style, lacquered, silk, satin, tufted
Distinguishing features: Luxurious, over-the-top, glamorous, dramatic, bold accessories
10. Scandinavian
---
The Scandinavian style originates from Nordic countries. It puts a lot of emphasis on natural and artificial lighting to create a bright and clean space. Scandinavian design has many similarities to minimalist design where function, simplicity and clean lines reign supreme.
Main materials: Wood, plastic, metal
Color palette: White, black, grey, brown
Furniture style: Functional, simple, natural fibres, clean lines, smooth & rounded edges, natural hues
Distinguishing features: Spacious, few accessories, natural lighting, light flooring, clutter-free, minimal
---