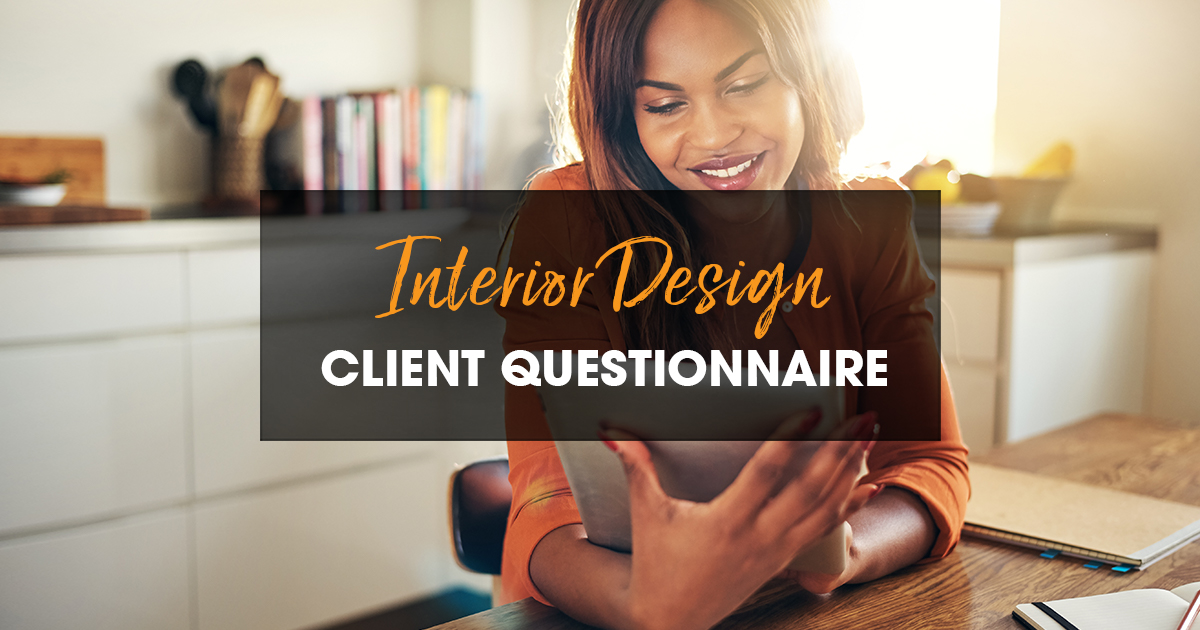 ---
Consulting with a client before beginning your design work is a necessity. It's an opportunity for both of you to exchange important information. You'll get to know the client better and you'll understand their wants and needs, and in turn, you will be able to tell them about the services you can offer to design their dream space. 
You can either meet with your client at your office, or you can meet them at their own house. The latter might be preferable so you can get a better picture of their space; a walkthrough might help spark ideas that you can discuss with the client right away, and you'll also be able to gauge whether or not you and your client are a good fit for each other.
Your main goal during your initial consultation is to go through an interior design client questionnaire to make sure you fully understand what your client is looking for. This article will help you ask the right questions so you can move forward and deliver a beautiful space that your client will love.
Interior design client questionnaire
Here's a list of questions you can ask your client during your initial interior design consultation. Don't hesitate to ask additional questions or elaborate on these questions if need be. 
What design style(s) do you prefer?

 

What design style(s) do you absolutely 

dislike?

 

What colors do you like or dislike?

 

What patterns, if any, do you like?

Do you have any inspirational images you can share?

 

What does your family normally do in this room

 (i.e., what is the intended use of this room)

?

 

Are there any furniture

 or decor

 items you absolutely want to keep?

 

What do you dislike about the current design?

 

Do you or your family have any special needs?

 

What are some of your hobbies/passions

 (e.g. traveling, reading, painting, cooking, etc.)

?

 

What is your budget?

 
Once you've gone through your interior design questionnaire, you should have a better understanding of your client's vision of their future space. Knowing their budget is absolutely crucial so you can let your client know whether or not their ideas are feasible. 
Keep in mind that learning about your client's dislikes is just as important as learning about what they like. This is especially true if they're not sure about what they want – you can at least find out what they absolutely do NOT want and work from there. 
Your initial consultation should help you determine if the project is achievable and if it's a good match for you. If your client decides to hire you, congrats! You can then move forward by signing a detailed contract and beginning the design process by using advanced interior design software.
---