---
Outdoor kitchen design is highly profitable within the home design industry.  
According to a study conducted in the US, the demand for outdoor furniture and grills is forecasted at $9.1 billion in 2019. That means prices and margins are high, making it an easy way to grow your business. 
Outdoor kitchens are similar to indoor kitchens; they serve the same purpose, but the main difference are the elements. You need to choose durable materials, weatherproof appliances, and furniture that is easy to clean. 
Here are some great outdoor kitchen design tips that will help you expand your business and design beautiful and practical outdoor spaces. 
The layout of a kitchen should always be functional, whether indoor or out. Make sure your client's outdoor kitchen design is laid out so that the grill/cooktop, sink, refrigerator and counterspace are in close proximity, facilitating a streamlined workflow. As a rule of thumb, you should follow the "work triangle" layout in outdoor kitchens, just like you would for indoor kitchens. The NKBA has a great kitchen layout guideline you can consult for more information. 
There's more to an outdoor kitchen than just a grill. Clients are leaning more toward fully equipped outdoor kitchens, complete with a grill, burners, sink, refrigerator, storage cabinets, and countertops. It's important to speak to your client about their needs before planning an outdoor kitchen design so you understand exactly what to include with the budget they've set. Some kitchen design software such as 2020 Design have built-in catalogs that offer outdoor appliances and cabinetry you can use in your designs. 
---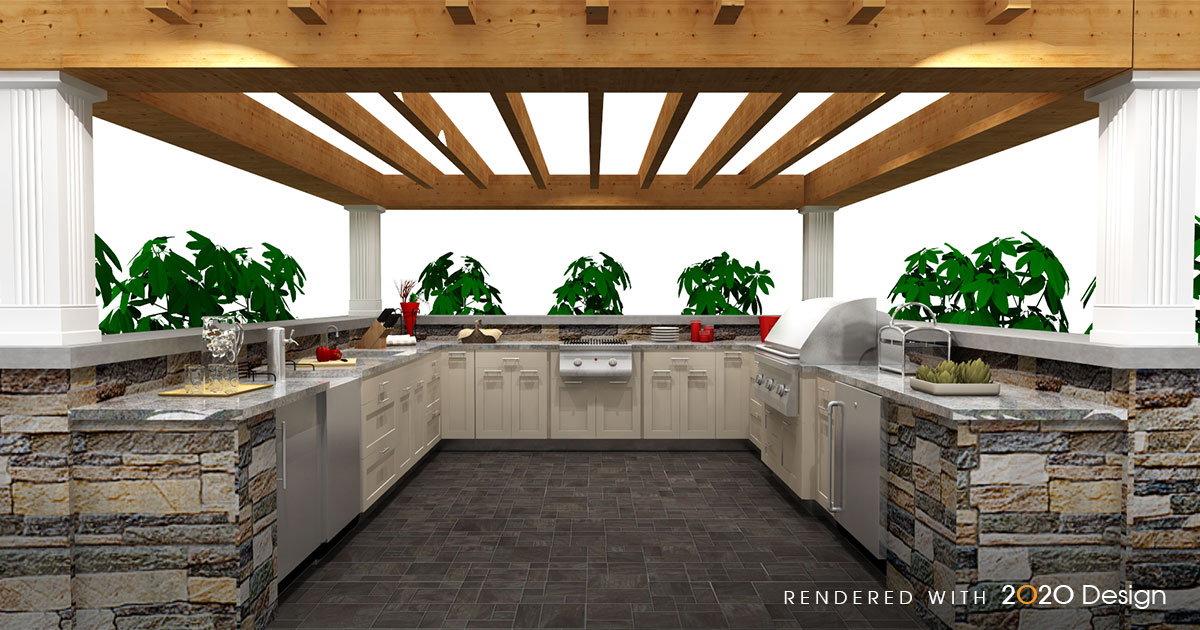 Outdoor kitchen materials have to be sturdy and durable so they can stand the test of time – and the elements. Cabinetry must be waterproof in order not to decay, which is why "marine-grade" cabinets made of polymers (HDPE or high-density Polyethylene) or stainless steel are ideal. When it comes to countertops, granite, concrete and tile work best, depending on the client's budget. As for decorative finishes, the most popular ones are brick, stone, and stucco.  
---
Since your clients will be spending a lot of time outside, you want to make sure there are enough power and water sources available for their convenience. Power outlets should be abundant, both for the appliances and for general use. You should also properly plan out the water source if your client wants to have an outdoor sink installed. 
5. Living & dining spaces
Outdoor kitchens go hand in hand with outdoor living and dining spaces. If your clients are planning on cooking outsides, chances are they're also planning on eating and lounging outside. If the weather is unpredictable, consider covering these spaces for convenience. A pergola or other similar structures work wonders in outdoor spaces – whether to provide shelter from the rain or from the unrelenting sun. You also want to make sure the furniture you choose is weatherproof so they can last as long as possible without having to be replaced. 
---
6. Lighting
---
Lighting is vital in an outdoor kitchen, especially when the sun starts to set early. Cooking in the dark is unpleasant at best, and you want to offer your clients an enjoyable outdoor cooking experience. You can install weatherproof sconces/wall-mounted fixtures, string lights, solar-powered landscape lights, post lights, and smart outdoor lighting. The more lighting options they have, the better.  
7. Sound system
---
If your clients are planning on entertaining a lot – which is highly probable since they are installing a fully equipped outdoor kitchen – you should ask them if they want to install an integrated sound system as well. It's easier to install all the necessary equipment when the contracting job begins; it might be problematic to install them later on.  
Health is the ultimate luxury. The discerning client of the present and the future is redefining the luxury lifestyle. No longer about mere beauty, the most successful and sought-after projects are now designed with health and well-being at the center. Watch our webinar to learn more about healthy design.
Watch Now